Good Attendances – ANZAC Services in Southern Goyder 2018
Eudunda – Dawn Service
Rain at dawn started the Eudunda ANZAC Dawn Service, fortunately only a short shower.
Eudunda RSL President John Stephens welcomed everyone to the service which was led by Pastor Josh Muller.
The assembly of 180 people heard Glen Mickan of Adelaide speak of his family history of the Neales Flat and Tablelands areas prior to 1912 and later of his family involvement in World War II. One of the names on the Eudunda War Memorial, Leslie Harold Jenke was an Uncle who served as a Flight Sargent in the RAAF and sadly lost his life in Papua New Guinea. Leslie had two first cousins, one was Glen's Father who returned from war and started a family,  but his Uncle Erwin Mickan, unfortunately died at the horrific Burma Railway on 12th March 1943. Glen then recited a poem he had written to remember his Uncle Erwin, a lament that he will not return.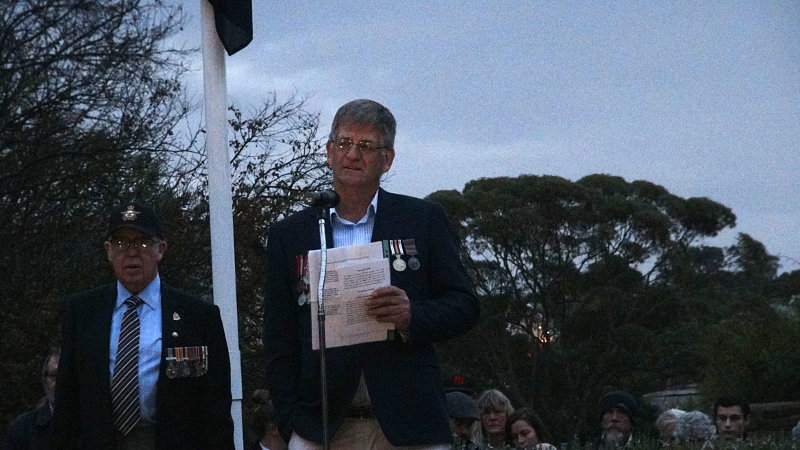 John Stephens reminded us that this year was not only about the ANZAC landings at Gallipoli as there were big celebrations to commemorate the 100th Anniversary today of the intense fighting of the Battle of Villers-Bretonneux in France. Many of the local organisations laid wreathes in commemoration of the fallen.
Geoff Hansen proudly bore the Australian Flag as the bagpipes and drums of the Barossa & District Pipe Band played marching music as the parade moved from the War Memorial down to the Eudunda RSL Rooms, where everyone enjoyed some great food and a few drinks and stories. This year a very friendly goat wanting to befriend everyone at the RSL Rooms.
Robertstown – Morning Service
The Robertstown ANZAC morning service had a fine day greeted 100 people assembled to remember those who had fallen during all wars and campaigns.
Mike Colbey led the service, with Cr John Neal giving the readings and sharing when he visited the New Zealand's War Memorial Museum, which amazed him with the high tech, immersive displays. John introduced the new planting of roses named 'We will remember them' which have been planted behind the Robertstown War Memorial. The roses were sent specially from France.
After the service everyone remained behind for the traditional BBQ and chat.
Eudunda Hostel
Both the Eudunda dawn service and the Robertstown morning service were recorded and played to the residents at the Eudunda Hostel straight afterward. A wreathe was laid by Cynthia Armstrong on behalf of the residents. Everyone was very thankful that they could be included in the districts services, which bought back many memories.
Dear Editor, if you are short on space could you try use at least one photo from each service – thanks
ADDITIONAL PHOTOS
Eudunda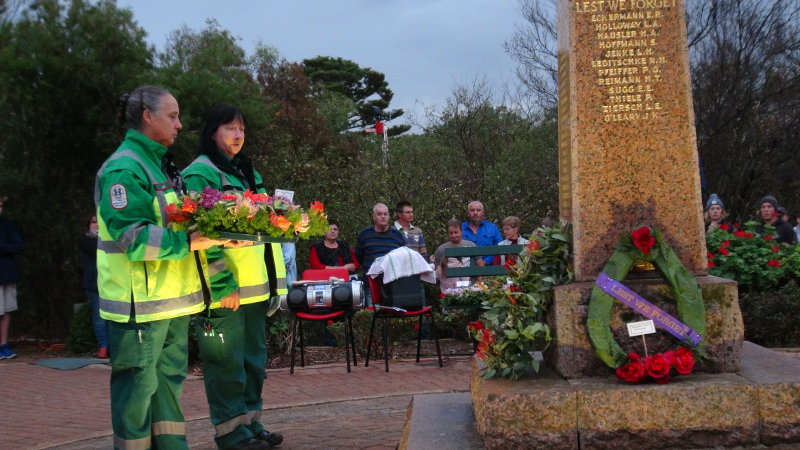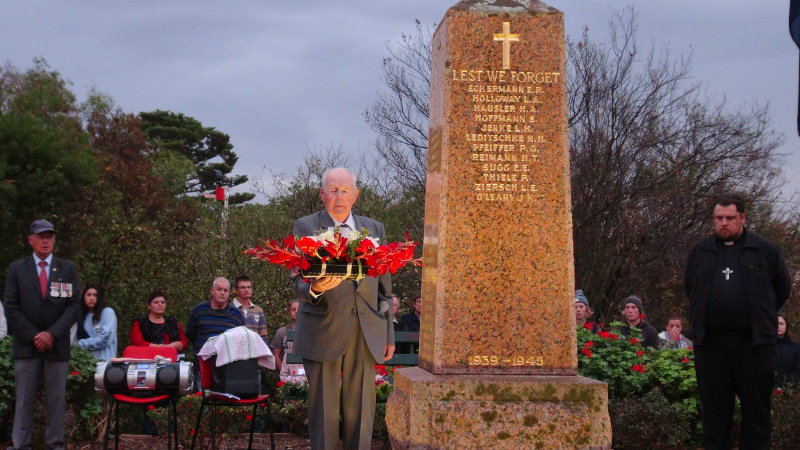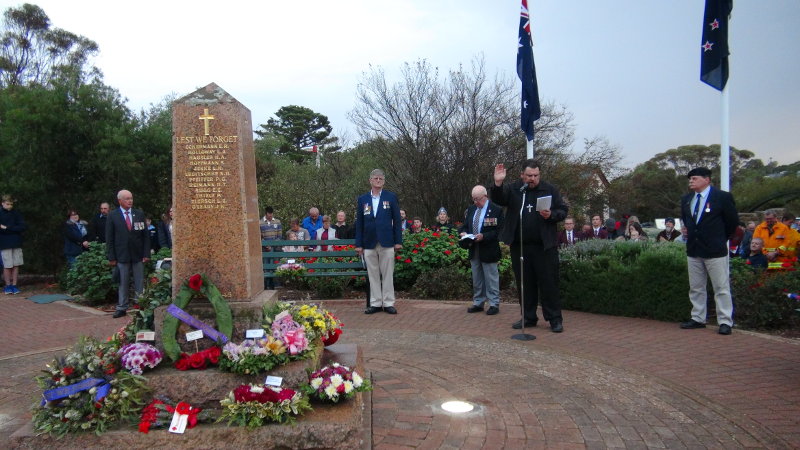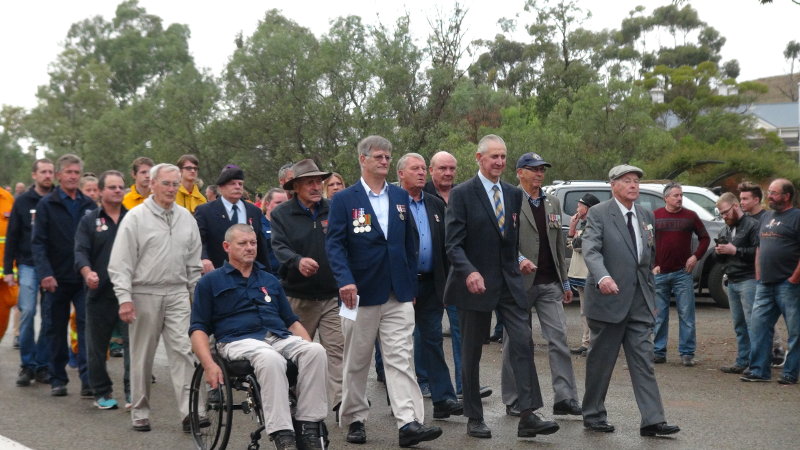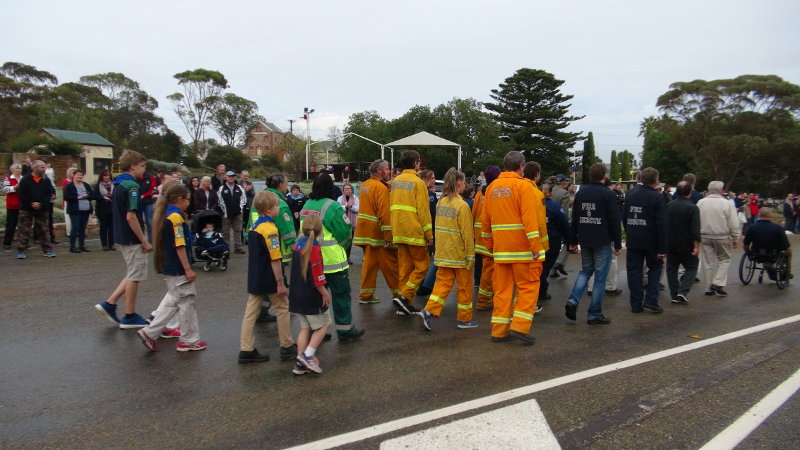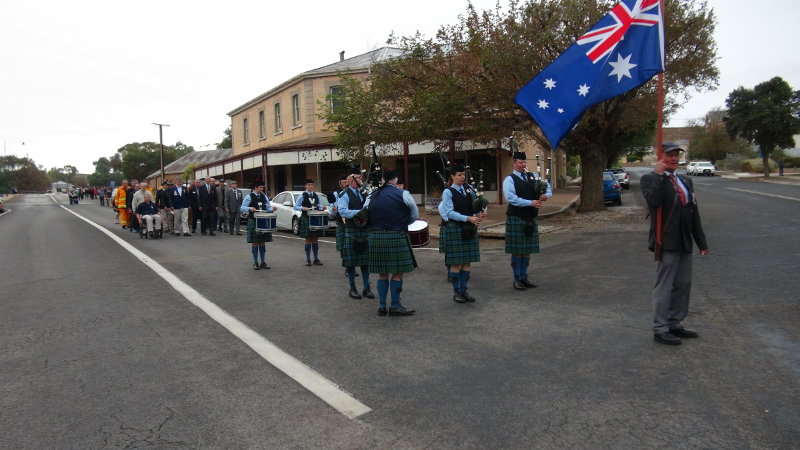 Robertstown