Remembering Kokoda recaptured – 2nd November 1942
On 2nd November 1942, the Australian forces returned permanently, to recapture Kokoda.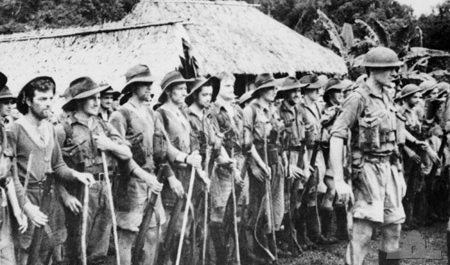 By Parer, Damien Peter – This image is available from the Collection Database of the Australian War Memorial under the ID Number: 013289 This tag does not indicate the copyright status of the attached work. A normal copyright tag is still required. See Commons:Licensing for more information. Public Domain, Link
On that day a patrol from 2/31st Battalion entered Kokoda Government Station to find the Japanese had left two days before. By the afternoon the whole battalion had arrived and secured the area, capturing also Kokoda village, two kilometres away to the east on the track leading to the north coast.
Sky News national has a great video tribute to this campaign
(be careful not to click on the video or you will go to an advert)
ABC news has a great story of memories from some of the men 
'Kokoda veterans reflect on 75 years since battle against Japanese they were lucky to survive'
Read about the events leading up to this day and what it meant to the war effort afterward
on the DVA ANZAC Portal – Retaking Kokoda

There are lots of sub pages to investigate there too, Jungle Warfare, tactics, supplies, sickness for you to research too.
The Kokoda Track Campaign took a tremendous toll on both sides between 21 July – 16 November 1942, against the Japanese with the Australian and American Forces winning after such a touch struggle. It was an important strategic point in World War II in the Pacific Region.
Sadly there were many casualties (on both sides)
You can read more about this on the Wikipedia website
Kokoda Track campaign
including statistics on casualties and losses. One interesting, yet influential part of this war was the 'Malaria and dysentery' which had such a significant effect on both sides at various times.
DVA ANZAC Portal – Malaria and dysentery 
The page above also pays tribute to 'The Salvos'
The area is so rugged and unforgiving that the Jungle is supreme. Another ABC story,
'Kokoda historians discovering new sites 75 years after brutal battle along PNG track'
And although in war there is usually a winner and a loser, humanity, the people on both sides are affected and loose so much. This ABC story tells of the Japanese families who lost relatives at Kokoda,
Kokoda families push for Japan to remember war dead
Let us Pray that we never have to endure war!
Please come to a "Remembrance Day" on Saturday 11th November 2017
Eudunda War Memorial
To honour those who lost thier lives or suffered, to give us freedom.


Details here