Preparations for Eudunda RSL 100th Anniversary Under Way
HISTORY IN THEIR HANDS, HISTORY TO BE MADE, HISTORY TO BE SHARED.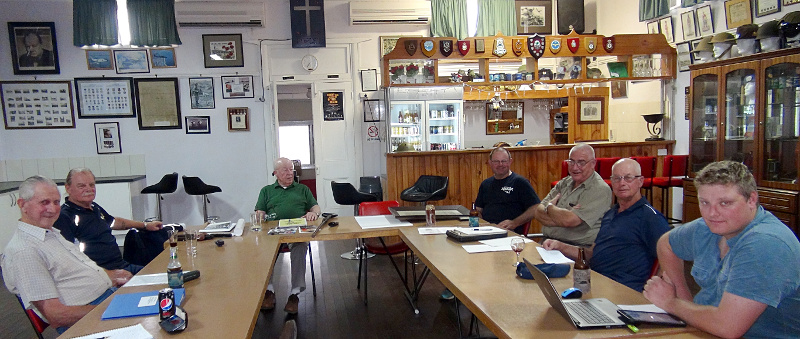 Committee members of the Eudunda RSL Sub Branch met on the 25th March 2019 in their clubrooms, amid a great wealth of history and memorabilia of artifacts spanning 100 years of Australian military service, during war and peace.
The progress meeting is for the plans they are hatching to celebrate the 100th Anniversary of the 'Charter of Membership', marking the formation of the 'Eudunda RSL'
Celebrations for Sunday the 17th November 2019
The date has been put aside as Sunday the 17th November, which will land very close to the day, one hundred years earlier, being the 15th November One thousand, nine hundred and nineteen when the charter was signed by the then President Arthur S Blackburn of the "Returned Sailors' & Soldiers' Imperial League of Australia, South Australian Branch.
There is still much to do  before the 17th November but they can say they plan on several activities for the day, including a celebratory lunch in the Eudunda Hall. As the hall can only cater for 120 for meals, they expect the lunch will be by 'Invitation'.
PLEASE LET OLD EUDUNDA RSL MEMBERS KNOW, FAMILY MEMBERS WELCOME
If you know anyone who served in the armed forces and had an association with the Eudunda Sub Branch, please let them know about our celebrations, as we would be very happy for them to attend.
We realize that many ex members are perhaps not able to attend, perhaps they have passed on, or due to health or age, so we would be happy if at least a representative of thier family, or the whole family could come back to Eudunda and share memories. Perhaps you might find more information about your family member while here?
PLEASE BRING YOUR MEMORABILIA ALONG TO DISPLAY
If you (or your family) have any artifacts or memorabilia from those who may have served and been members of the Eudunda Sub Branch, please consider bringing it along.
We realize the item might be precious to you, so a copy of documents or the item would be very much appreciated, especially if you are willing to leave it with us at the Eudunda RSL.
Planned Activities (still to be firmed up)
10am – Eudunda RSL Rooms Open for visitors – it will remain open until late afternoon come have a chat and a drink with us
12 Noon Eudunda Hall – Celebratory Lunch – invitation only
2pm – Eudunda War Memorial Gardens – Unveiling of Celebratory Plaque
Eudunda RSL Rooms Open for visitors – it will remain open until late afternoon
Keep your eyes open for further announcements.
If you wish to attend, please consider contacting us as soon as you can – this will help us with bookings.